Gorges du Tarn - Great Causses
a world to explore


the Camping Cassaduc is located South from causse of Sauveterre, it's land of limestone, ewes, Roquefort, the land of The Large Carline Thistle ( Carlina Acanthifolia ), orchids... The landscapes combine the beauty of the steppes to the charm of ruiniform sites such as Chaos of Nîmes le Vieux and Montpellier le Vieux.

In addition to the discovery of the large Causses and Gorges of the Tarn, starting from the Camp-site of Cassaduc you will be able to practise hiking, as well as leisures as varied as climbing, moutain bike, canyoning, bathe on the Tarn ( 12 km ) ...

Our very beautiful country offers broad protected wild spaces which will allow you the discovery of a rich various wildlife.


Its touristic environment is very rich :



Gorges of Tarn, Jonte and Dourbie



Many caves and avens (Aven Armand, Grottes de Dargilan, Abîme of Bramabiau ...)



The medieval city of Sévérac Le Château (sound and light entertainment in August)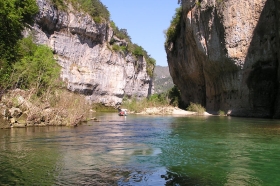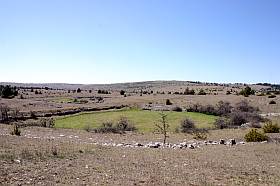 Ledges of Causse Méjean and Causse Noir



Mont Aigoual Observatory



Caves de Roquefort and Causse du Larzac



Chaotic sites of Montpellier-le-Vieux and Nîmes-le-Vieux



Millau, the glove city, and its viaduct

























Access :

Highway A75, from North, way out 42 (
20 mn
) [ Sévérac le Château

Le Massegros ]

Highway A75, from South, way out 43 (
20 mn
) [

Le Massegros ]

Coming from the Gorges du Tarn, up on the Causse through Les Vignes or La Malène

Excellent situation overlooking
Gorges du Tarn
, very close to
Point-Sublime
.

GPS coordinates (DD) : latitude = +44.31402, longitude = +3.24289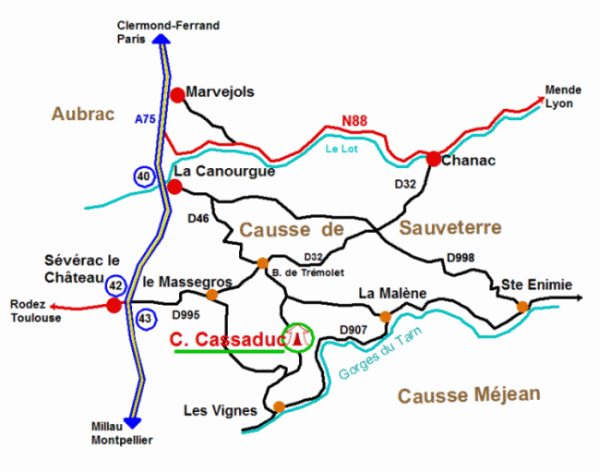 see on GOOGLE MAPS